Welcome to Overcoming Grief with your host, Sandy Linda.
This is a podcast that serves to break down the stigma surrounding grief and mental health and helps women cope with loss and regain control of their emotional worlds. Join Master Grief and Life Coach Sandy Linda as she shares tips, secrets, advice, and practical knowledge about the grieving process to help you stop feeling anger and sadness, and process your grief in a healthy and nurturing way.
If you are tired of feeling isolated and angry in your grief and are looking for a way to heal and move forward with your life, this show is for you. Grief is lonely, but you've taken the first step. Recognizing and acknowledging that you feel lost and alone is an act of courage and self-assurance. Now let me help you take the next step to heal from your heartbreak, move forward in your life, and create new experiences that will transform your self-identity. Because life can be challenging, but it can also be fun.
Each week, I'll share practical and usable tips, secrets, advice, and knowledge about the grieving process to guide you towards a path of personal growth and self-empowerment as you move forward in life. I'll help you embrace possibilities while honoring your grief journey, and I'll help you be bold, be fearless, be unapologetic; be you.
If you're ready to ditch the anger, unworthiness, and isolation and start feeling empowered to transform and heal from your loss, please follow the show wherever you get your podcasts, so you never miss an episode.
I'll be releasing a new episode every Thursday!
---
To celebrate the launch of the show, I'm giving three lucky listeners a free one-to-one coaching session each! All you have to do is follow, rate, and review the show. Keep reading to learn more about the contest and how to enter.
---
Click the links below to listen to the first episodes:
Here's what you should do right now to sign up for your weekly inspiration from the Overcoming Grief podcast…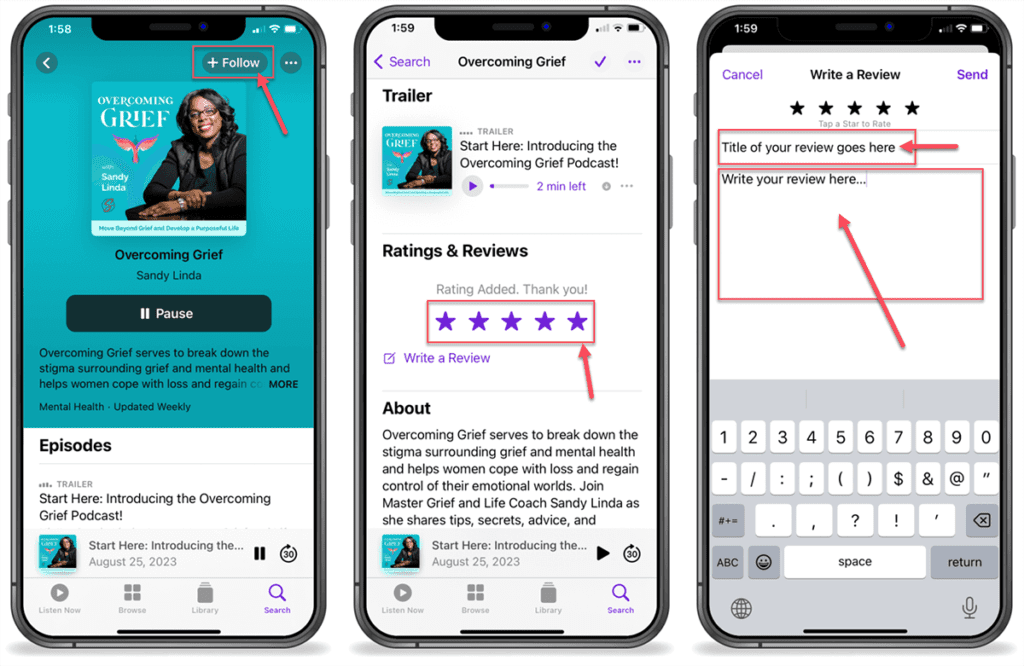 1. Follow in Apple Podcasts
To follow in Apple Podcasts, visit the Overcoming Grief page and click on the "Listen on Apple Podcasts" button. (Note: If you're on a PC or Android, you can download the iTunes app and leave a review there!)
This will launch Apple Podcasts and bring up the podcast.
Click on the "Follow" or "+" button and you're all set!
You can also listen to the podcast via Spotify, Google Podcasts or wherever you get your podcasts.
2. Review the Podcast and Enter to Win!
I'll be giving away a free one-to-one coaching session to THREE lucky listeners who follow, rate, and review the podcast in Apple Podcasts!
How to Enter: Once you've listened to an episode or two, tap the stars and click on the "Write a Review" link on the Overcoming Grief page in Apple Podcasts to leave a review.
Fill out this form* to enter the giveaway!
Any review qualifies you to win: I want you to be honest, tell me what you think, and how I can help you better… Make sure you hit "Send!"
*Apple Podcasts doesn't release contact information for reviewers so you MUST fill out this form to officially enter the giveaway!
If you haven't yet, make sure to follow in Apple Podcasts now. You can also find the show on Spotify, Google Podcasts, and wherever else you get your podcasts!
Thanks for listening!